Welcome to

SKM Group

"SKM Steels Ltd. is a renowned Company in Steel Manufacturing, Distribution and Export with its Headquarters in Mumbai"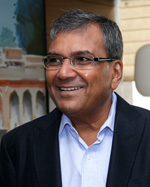 Established in the year 1969, SKM Steels Limited was founded by the visionary,
Shri Kirti Shah as a steel trading company. He laid the foundation of this futuristic venture with the dream to reduce the extended chains of traditional intermediaries in the industry and delivering exceptional services to clients directly. Since then SKM has acquired a vast knowledge of production technologies and distribution strategies to enhance products and services which has also helped to strengthen relationship with our esteemed clients.

SKM is the biggest Channel & Service Partner for Tata Steel in India, known for its wide range of services and high quality standards. SKM has a team of dedicated people and efficient manufacturing, process and distribution system in place of various steel products making them a leader in this industry.

SKM has also entered into the global market as the exclusive authorised partner for global giant ALCOA to supply Aluminium products in India. As we aim to reach newer heights in the industry, we are consistently working towards creating value for our stakeholders and strengthen our presence in the global arena.

Our extended Portfolio does not only have Steel, we have also made a mark in sectors like Realty, Jewellery, Tube, Pipe Manufacturing, Infrastructure etc. We have expanded our servicing capabilities by creating world class Service Centres at Taloja that has received an ACE+ Certification. As a part of our Green Initiative, we have also invested in wind mills to reduce our Carbon footprint and contribute to the well being of the environment.