Tata Astrum, the brand for HR Sheets & Coils from Tata Steel, is the new star in the manufacturing marquee that will redefine the norms of the market by virtue of its impeccable quality and best-in-class service offerings. Hot rolled coils and sheets have been the backbone of the infrastructure and manufacturing sector for years now.

Tata Astrum shall strive to support the growth in these sectors by addressing the pain areas of the customers and providing end to end solutions. With its wide range of products, Tata Astrum can serve customers from different segments viz. Automotive, Railways, Yellow Goods, Agriculture, Fabrication, etc.

Advantages

• Assured Availability
• Wide Range of Grades for a host of applications
• Steady availability in various thickness & width combinations
• Cut to length sheets/slit coils from certified service centers
• Product Marking to ensure source authenticity
• Product Application Engineer Support to recommend the correct grade and usage
• Test certificates with mechanical properties
• Customer Engagement & Knowledge Sharing Programs

The product range includes:

• Hot Rolled Coils (HRC)
• SPO (Skin Pass Pickled & Oiled)
• Cut to length (CTL) Sheets
• Slit Coils
• TDC or Technical Delivery Condition consists of a set of specifications which is guaranteed in the product
Tata Steelium was launched by Tata Steel in 2003 as the world's first branded cold rolled steel (CRS). Since then, the brand has gone a long way in meeting the challenge of gaining a sustainable competitive edge in the marketplace. It has acquired new customers in retail untapped areas and made an aggressive entry into the retail segment through exclusive retail stores of Tata Steelium CR coils and sheets called 'Steelium Zone'.

The Tata Steelium coils are wrapped in VCI paper with HDPE laminate, metal packed with galvanised steel to ensure proper protection at the time of transportation & storage. There are distinct identifiable Tata Steel tags & unique blue seals on the packaging which help identify the source of the material. Steelium coils are available in thickness of 0.4 mm to 3 mm and in width of 1,000 mm to 1,540 mm. Coil weights vary as per the coil width. Customized Steelium grades are available for varying applications.

Advantages

The name 'Steelium' represents both strength and a feeling of being a world class brand. Over the years the Company has invested in a number of branding activities to build the brand equity of Steelium in the retail segment of cold rolled steel.

• Authenticity and genuineness of the product
• Superior product quality
• Savings through better yield
• Better value for your products
• Wide range of grades, thickness and widths
• Well organized distribution network throughout the country
• Quick response & prompt redressal of problems
• Deliver superior value to your customers on a consistent basis and by design
• Opportunity to differentiate your product on the basis of raw material source

The product range includes:

• Cold Rolled Coils (CRC)
• Cut to length (CTL) Sheets
• Slit Coils
• TDC or Technical Delivery Condition consists of a set of specifications which is guaranteed in the product

Cold Rolled Close Annealed (CRCA) material is available in various grades required for commercial and automotive applications. The following table indicates the most common grades along with comparative national and international specifications.

The selection of grades depends on the application/end use. The table below shows a typical reference for use. However, the tooling/forming system as well as lubrication systems needs to be considered for adequate performance of the grades in specific applications.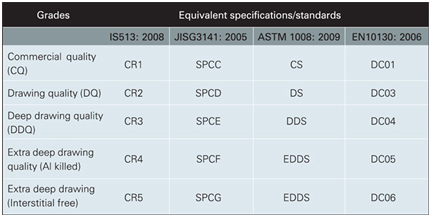 .
Tata Steelium recently rolled out High Performance CR Steel in its first ever brand extension, Tata Steelium Neo, to meet the demand for higher quality stringency in Auto, Panel and Furniture segments. Drawing on a rich heritage of integrated steelmaking experience, it now offers customers an enhanced basket of products for advanced applications.

Advantages

• Tighter Tolerance for Minimal Wastages.
• Superior Surface
• Enhanced Flatness
• Uniform Mechanical Properties
• Better Weldability
• 100% Inscpected Coils

The product range includes:

• Cold Rolled Coils (CRC)
• Cut to length (CTL) Sheets
• Slit Coils
• TDC or Technical Delivery Condition consists of a set of specifications which is guaranteed in the product


| | |
| --- | --- |
| TF15 | Furniture |
| TG03 | Light Draw |
| TA09 | Auto Ancillary |
| TA12 | Auto Ancillary |
| TG04 | Deep Draw ( Auto Ancillary & GE ) |